| | | |
| --- | --- | --- |
| Welcome | | You are not currently logged in. |
Working People United.

-We Are AEU-


For 2013 Tentative Agreements Click Here
Unions are about a simple proposition: By joining together, working women and men gain strength in numbers so they can have a voice at work about what they care about. They negotiate a contract with their employer for things like a fair and safe workplace, better wages, a secure retirement and family-friendly policies such as paid sick leave and scheduling hours. They have a voice in how their jobs get done, creating a more stable, productive workforce that provides better services and products.
February 2014 Update
Dear AEU Members:
Please click here to see information related to the January 13, 2014 bargaining proposals culminating in CSEA's most recent rejection of AEU's latest economic proposal on February 4, 2014. The information is pivotal in AEU decisions moving forward. It is crucial that we are all on the same page. The team will endeavor to make that crystal clear with the Bargaining Council, Executive Board and in turn, the entire AEU membership as we reach this point in the bargaining process.
We reiterate our continuing commitment and dedication to our membership.
The AEU Bargaining Team
AEU Affirms its Commitment for a Fair Contract

AEU members made the trek to Visalia yesterday despite the weather and holiday season and unanimously rejected ED Low's "0,0,0" package proposal as a TA.
Following a thorough presentation of where bargaining stands today including accurate cost of the economic items and the status of four ULP's by Chief Co-Spokespersons Platten and Koenig, the membership engaged in a spirited discussion and emerged reinvigorated toward collectively achieving a fair contract loyal to the union values we deeply hold.
The membership further gave the bargaining team strike authorization with the safeguard that 2/3 of the full officership (Bargaining Team, Executive board and all office Stewards on behalf of the members in their jurisdictions) must agree on the timing before a ULP strike action is called.
More information to follow. Please stay connected with your Steward.
Notice of AEU December 8TH Special Meeting
A Special Meeting of the AEU Membership has been called for December 8, 2013 in Visalia, CA. Click on the links for a copy of the meeting notice and CSEA Executive Low's "0,0,0" package proposal at issue before the membership.

The AEU Bargaining Team has been working daily toward a fair contract since the membership directed it in January to obtain a wage increase after five long years with no increases; once again dissolve a divisive two tier pension system that threatens the future stability and quality of CSEA member services of the Association for years to come; restore the 2.275 pension accrual factor, the low cost of which fits within CSEA's fiscal means, and accept no health and welfare contributions before it's time while also addressing serious workload issues. We continue to hold that line after eight consecutive months of bargaining.

ED Low requested that AEU Chief Economic Spokesperson Chris Platten bring Low's October 23rd "0,0,0" package proposal to you, rather than continue bargaining with AEU. Since then, CSEA has insisted that AEU meet several conditions (a bit difficult to keep straight) before CSEA will meet and negotiate again. The last set of "conditions" is dated November 5, 2013. We are obligated to file unfair labor practice charges to properly represent you.

Against this current scenario, it is absolutely necessary before the Christmas break that we know what the AEU membership wants to do with the employer's current "0,0,0," proposal and continued refusal to meaningfully bargain in order to have clear direction before 2014.

The membership will be able to directly ask all questions and get straight answers including from AEU's Co-Chief Spokespersons Platten and Koenig who donate their time in commitment to our membership. Platten and Koenig will open the meeting with an updated power point.

The December 8th meeting is unavoidably required and pushed to the end of the year by the status of the protracted months of bargaining. It is very important that you please make plans now to attend. We need you for one day. Mileage will be paid for those traveling with three persons or more in a vehicle.

Contact Co-Chairs Scott or Karen if you have questions about the December 8th meeting before then.

Continue to Stand Strong and Together.
Election Results
The following are the election results:

Results of Votes Tally for Treasurer:
Patty Truskolaski - 69
Mary Morbo - 57
3 invalid ballots

Results of Votes Tally for Vice-President North:
Karen Hartmann - 43
Nancy Vogel - 39
1 Invalid Ballot

Results of Vote Tally for President:
Scott Hendries - 78
Raul Perez - 58
1 Invalid Ballot
New CSEA Communication


Following yesterday's update, CSEA communicates today that it is interested in resuming bargaining but declines dates. Instead, CSEA suggests that the most efficient way to pursue the remaining economic issues is "for AEU to submit its proposals to CSEA in writing." CSEA believes that the economic issues can "easily and instantly be responded to by the parties electronically." The AEU team is disappointed that CSEA has not yet agreed to actual dates. Please be advised that the AEU team is now assessing AEU's appropriate response.

We further apprise you that CSEA also states today: "[P]ending ratification of a successor agreement, the (LBF) terms imposed on October 1, 2013 remain in effect, including deduction of the 1.25% employee contributions which commences with the November 15, 2013 payroll." It appears that CSEA plans to impose all terms of the October 1, 2013 LBF in our next paycheck despite that it says it is interested in resuming bargaining toward tentative agreement. The AEU team is disappointed that CSEA elects to do this while proposed terms are on the table.

(Of note, with regard to the pension contribution, the pre- versus post- tax issue continues to require clarification for example since that issue was set aside when impasse was broken and full negotiations resumed on October 17, 18 and 23, 2013. )

As stated, AEU remains fully committed to achieving a TA that is fair to both sides. We hope this remains CSEA's goal as well following CSEA's information received today.

We shall continue to keep you apprised.

In Solidarity and Unity,

Debbie Pichetto
Val Hollins
Karen Hartmann
Scott Hendries
Carol Koenig
Chris Platten
The Parties Continue Their Efforts to Reach Acceptable Terms
As reported to you, in the last bargaining session on October 23, 2013, the parties were unable to reach a full T.A. In that session, CSEA moved off its LBF terms and instead offered the AEU a four year contract with no salary increase -- or health and welfare or pension contributions in the first two years, but reopeners on those items in the 3rd and 4th years. The result was a regressive proposal i.e., less than CSEA's imposed LBF terms which AEU is required to reject. This also constitutes an unfair labor practice charge. CSEA wanted AEU to bring you that proposal anyway but CSEA elected to change the proposal on October 31, 2013 by removing some non-economic T.A.'s.

To their credit, the parties are attempting to work through their differences including interaction with the NLRB related to AEU's pending ULP charges. On October 31st, DFO Pace accepted AEU's offer to return and hammer out an agreement at the table. Towards that end, on November 4, 2013, AEU offered the dates of November 12 (morning), 14 and 19-21, 2013 for continued bargaining. AEU now waits for CSEA's confirmation of dates. AEU is hopeful that the agreement by DFO Pace to resume talks past the snap shot of proposals exchanged on October 23, 2013 (and subsequently revised) will prove that fair resolution is possible. However, AEU is duty bound to file additional ULP's if it believes that CSEA is not complying with its obligation to negotiate in good faith in accordance with the law. We hope this will not be necessary.

The AEU Executive Board has adopted the special meeting date of December 8, 2013 in Visalia which we hope will be a T.A. ratification meeting before the December holidays. However, continued hard work and movement on both sides is required before this can happen. The AEU bargaining team continues to focus on good faith attempts to secure a fair market successor agreement within CSEA's means and report out accurate, up-to-date facts that are directly relevant to that goal. Next, we hope to immediately report to you those dates that CSEA and AEU agree to return to the table once AEU hears back from CSEA.

Stay Strong, Stay United,

The AEU Bargaining Team

Debbie Pichetto,
Val Hollins,
Karen Hartmann,
Scott Hendries,
Carol Koenig
Christopher Platten
Bargaining Update 10/23/13
Today, your AEU bargaining team engaged in direct bargaining with Executive Director Dave Low and DFO Keith Pace.
Agreement was reached on substantive non-economic language issues, focusing primarily on clarifying and finalizing the contract language on these issues.
Agreement was not reached on the primary economic issues, and it is our understanding that CSEA will be providing your AEU bargaining team with a written proposal for consideration by the AEU membership.
Your AEU team will be promulgating messages to the membership detailing information in response to frequently asked questions on the economic issues. These will include information about salary and the comparative labor market, medical benefits enjoyed by similarly situated employees in the comparative labor market, and a discussion about the strength of your pension plan and the cost of restoring the pension benefit formula to 2.275% per year of service and of eliminating the two-tier benefit structure currently in place.
Once your AEU bargaining team has received the written offer from CSEA, we will discuss its contents with the membership. In the meantime, arrangements are being made to schedule a membership meeting to review the offer. We hope to have the meeting in Visalia.
Stay strong and stay together.
In solidarity, there is strength.
Scott, Karen, Val, Debbie, Christopher and Carol
AEU Bargaining Team to Meet with Dave Low
VISALIA MEETING POSTPONED
The AEU bargaining team has reluctantly decided to postpone the October 20 membership meeting. Over the past two days we have made significant progress, breaking the impasse declared by CSEA and tentatively resolving all of the outstanding non-economic issues, as well as some of the economic ones. But, pension restoration remains a major sticking point and the simple reality is that we cannot make any further progress on that issue until Executive Director Dave Low is present for some candid, face to face discussion. Unfortunately, he will not be available to meet with us until the afternoon of Wednesday, October 23. We are cautiously optimistic that Wednesday's meeting could result in a tentative agreement that we can bring back to the membership. Given that, it makes little sense to expend the time and money required for a meeting in Visalia where the message would, in effect be "We meet on Wednesday with Dave Low."
Accordingly, we ask for you to remain patient for a few more days, stand strong and stand united.
Thank you,
Scott, Karen, Val, Debbie, Christopher and Carol
AEU and CSEA will meet on October 17-18th
AEU and CSEA will meet again at the bargaining table on October 17-18th per the October 4th letter from Keith Pace and October 7th response from President Hendries confirming dates today. (Click here and here for copies of the letters.) Per the October 4th letter from Pace, CSEA has informed AEU that it intends to make a change to its last, best and final package offer that it imposed on October 1st by reducing the pension contribution from 1.25% to 1.0%.

CSEA has widely represented to both AEU and CSEA members that its economic configuration of a 1.75% salary increase off set by the .25% monthly salary for H/W benefits and the 1.25% employee pension contribution will not result in a reduction in pay for AEU members. However, it is very likely that it will since union (ERISA) pension contributions cannot be made on a pre-tax basis. It appears that CSEA has realized this.

We reiterate that CSEA did not present its package proposal implemented on October 1st at any time during bargaining. It came in an email that President Hendries received the evening of September 25th. Dave Low's 1 p.m. statewide conference call was the next day. Because it was never provided at the table, AEU has not received an explanation from CSEA and has not yet been able to ask clarifying questions as is normally done in bargaining.

We will obviously have more information when the parties meet on October 17-18th.

In Solidarity,

Debbie Pichetto,
Val Hollins,
Karen Hartmann,
Scott Hendries,
Carol Koenig,
Chris Platten
CSEA to Impose Management Terms and Conditions
Bargaining Update September 28, 2013
CSEA TO IMPOSE MANAGEMENT'S TERMS AND CONDITIONS WITHOUT FULLY AND FAIRLY BARGAINING WITH AEU -- UNFAIR LABOR PRACTICE CHARGES TO BE FILED
The Emperor Has No Clothes
It was a proud day for AEU on Thursday, September 26th when rank and file AEU members did not hesitate to challenge CSEA Executive Director Dave Low's sudden declaration of impasse in the hastily called statewide conference call that many of you attended. The night before, Dave sent an email to President Hendries with a cover letter and attachments purporting to be a last, best and final package proposal. The letter indicated that Dave would be imposing the package on October 1st without further discussion with AEU. When asked to confirm that the package proposal to be implemented was never presented to AEU across the bargaining table, Dave had the audacity to state that he had no obligation to do so. For over one and one-half hours, one AEU member after another stood up and repeatedly challenged both Dave's bad faith bargaining tactics and his own moral fiber as the leader of the largest classified union in our nation. AEU members directly called Dave out on his hypocrisy. We are sure that the hypocrisy was apparent to everyone in the room and on the line. The emperor has no clothes. One member asked Dave as a unionist whether he honored picket lines. Dave said "yes." That same member then asked whether Dave would honor an AEU picket line. Dave said "no." Another member asked Dave whether he would advise CSEA members to accept his proposal if imposed by a school district. Dave said "yes." As stated by more than one of our AEU Brothers and Sisters, it was a dark day for CSEA.
Your AEU bargaining team acknowledges here the courage displayed by AEU members who stood up for the union principles that so many of us deeply believe in. Let this be our inspiration moving forward. Many AEU members have since contacted President Hendries and the bargaining team to pledge their support for AEU's reasonable proposals and fight for what is right.
Unfair Labor Practice Charges
The announcement on September 26th, that CSEA is imposing changes to terms and conditions of employment is not without consequence. AEU has already filed one unfair practice charge with the National Labor Relations Board arising from CSEA's bad faith bargaining, and will now take steps to file another charge based on the implementation of changed terms and conditions of employment for a variety of reasons. Of these, CSEA's change in conditions of employment represents a unilateral change without AEU members having first voted on an offer from CSEA, despite the fact that CSEA's bargaining team was aware of the membership meeting set for October 20th and acknowledged the ratification process in place under AEU's bylaws. The unilateral change in terms and conditions is therefore unlawful bad faith bargaining on that ground as well. We shall keep you closely updated on the status of these charges.
ED Low Appears Out of Sync with the CSEA Team
It is clear from the interaction between Mr. Low and rank and file AEU members during the statewide conference call on Thursday, September 26th, that Low is not in sync with the representations that CSEA's bargaining team has made in negotiations regarding the fiscal condition of CSEA and its ability to meet the AEU's bargaining demands. He claims to know what has been stated between the negotiations teams when he hasn't been at the table. Moreover, it is clear that CSEA is insisting on unwarranted and unreasonable reductions in pay and benefits for reasons unrelated to the funded status of the pension plan and to CSEA's budget. What is most disheartening is the clear picture presented by Mr. Low that CSEA supports retirement protection for CSEA members but not CSEA staff. This is glaring hypocrisy of a very ugly sort.
AEU Remains Willing To Bargain
AEU remains willing and able to continue bargaining. The team remains available to meet with CSEA before the membership meeting on October 20th. AEU rejects Dave's claim during the teleconference on Thursday that CSEA cannot return to the table unless AEU provides CSEA with a counter proposal. This is an absurd interpretation of the law of impasse under the NLRB and another misleading and bad faith bargaining tactic. The parties are free to return to the table at any time. AEU's willingness to return to the table was made crystal clear in the statewide conference call. CSEA walked away from AEU's hard bargaining and credible evidence without challenge by CSEA that the cost of AEU's proposals fits well within CSEA's budget and healthy fiscal goals moving forward. Instead, CSEA chooses to force terms and conditions not fully bargained with AEU much like a school yard bully. It is unconscionable that CSEA now claims that "the intransigence of the AEU bargaining team brought the parties to where we are today" when the facts support that the complete opposite is true.
CSEA Last Best Final Proposal
Because AEU was not provided Dave's last, best and final package across the table, CSEA did not explain its proposal or provide AEU with the opportunity to ask clarifying questions. What we know is what is read on the documents themselves. Click here for a copy of the September 25th communication that is purported to be CSEA's last, best and final package offer. The documents appear to indicate that the implementation on October 1st will be the one year economic proposal first presented as CSEA's "last, best" offer on September 18th and then again as Scenario #1 in the two scenario proposal delivered to AEU the next day on September 19th. It appears that all tentative agreements reached at the table to date also will be implemented. Finally, the document in the end entitled "CSEA's Last, Best, And Final" is misdated September 19th – this was not the proposal provided on that date. It appears from the face of this document that CSEA is also now willing to provide reasons when it denies donated sick leave and that Dave is willing to meet with AEU commencing in November 2013 to specifically discuss work load issues and other subjects such as meal reimbursement still on the table.
It is important that we clarify here that subsequent to the September 26th statewide conference call, CSEA is representing that it is implementing a "contract" causing some confusion within our ranks. This is incorrect. CSEA may only impose "terms and conditions" until a new agreement is finally reached.
Call to Action
AEU members are outraged at the profound mistreatment and hypocrisy displayed by CSEA in these negotiations. We will be asking the membership to cooperate in upcoming actions and outreach efforts to CSEA members and other labor organizations – please be prepared to engage as needed.
Special AEU Membership Meeting Sunday, October 20, 2013
An all AEU member meeting is scheduled for Sunday, October 20, 2013, at 12 Noon. The meeting will be at the Visalia Holiday Inn & Conference Center, 9000 W. Airport Drive, Visalia, CA 93277, 559-651-5000. AEU has secured an $89 room rate for those wishing to stay overnight. Make your reservation directly and indicate that you are with AEU to secure this rate. Contact AEU Trustee North Susan Thomas at aeususan@yahoo.com if you have questions.
Please plan to attend.
We will continue to keep you closely apprised.
In Solidarity,
Debbie Pichetto,
Val Hollins,
Karen Hartmann,
Scott Hendries,
Carol Koenig,
Chris Platten
Bargaining Update September 25, 2013
At bargaining on September 24th, your AEU team and representatives of CSEA were unable to close the gap in bargaining positions on this day. On September 24th, CSEA did not impose any offer. CSEA did not impose the "last, best" one year scenario it presented on Wednesday, September 18th, and again as part of its two scenario proposal on Thursday, September 19th. CSEA's current formal proposal when we left bargaining on the 24th was the two scenario proposal(s) presented on September 19th. However, after the close of business today, September 25th, at approximately 6:33 p.m., the AEU President received a document that purports to be a last, best and final offer. This set of documents was never presented to AEU across the table. The purported proposal appears to be a collection of various proposals over the many months of bargaining including new proposals informally introduced as solutions on Sept 24th but falsely labeled September 19th. Your AEU team must now assemble and assess what this "offer" is and take the appropriate steps. The 1 pm "all staff" meeting on September 26th called after hours today, September 25th is obviously a tactic to disrupt and divide the unit in tandem with this document.
Power Point Presentation Handout
In accordance with the vote of the membership on Saturday, September 21st, if agreement was not reached on September 24th, your AEU bargaining team is providing the membership with a copy of the power point presentation, updated, as reviewed at the meeting on the 21st. We provide this information in handout format with explanatory commentary that can be easily printed. (Please click here to access the power point information and commentary.)
AEU's Proposals Are Affordable and Consistent with the Relevant Labor Market
AEU seeks to obtain wages and benefits within the relevant labor market composed of similar union staff labor organizations in California. AEU has made plain in bargaining that going forward, CSEA must eliminate the 2-tiered pension structure now in effect, and obtain wages and benefits in line with comparable employers.
AEU's bargaining demands are affordable. In the first year alone, AEU's proposals represent a total cost equal to less than one-half of the known and conceded budget amounts available to CSEA. Put simply, CSEA knows that its pension contributions for Fiscal Year 2014 will be $1.9M less than budgeted. It also knows that it has over budgeted another $1.9M for employee costs for employees not on the payroll. This equals a $3.8 million savings for FY 2013-2014. In comparison, the cost of AEU's proposal including a 3% salary increase; restored 2.275 pension factor moving forward and no cap on medical is $1.3million. (We correct the $1.78 million previously reported. The cost of AEU's proposal in the first year is even lower.) CSEA retains a cost savings of $2.5 million.
AEU is providing this information and will continue to keep the members informed about developments as they transpire. This will now include our assessment and reporting out on the purported "last, best and final" received today but not exchanged across the table.
October 20, 2013 Membership Meeting
There will be an all AEU member meeting scheduled for Sunday, October 20, 2013, in Visalia, at Noon. At that meeting, the membership will take appropriate action on whatever "offer" then exists from CSEA to AEU.
Stay strong, stay together – don't fall for the tactics.
In Solidarity,

Debbie Pichetto
Val Hollins
Karen Hartmann
Scott Hendries
Carol Koenig
Chris Platten
Bargaining Update September 19, 2013
We are pleased to announce that the militancy and solidarity expressed by rank and file AEU members around the state in reaction to the "last, best" offer received yesterday from CSEA has had a positive impact.
At approximately 3:36 p.m., this afternoon, your AEU bargaining team received yet a new offer from CSEA for a four-year term. Click here to view CSEA's September 19, 2013 two scenario proposal. While well short of meeting AEU's demands, the fact that CSEA made yet another offer demonstrates that the bargaining process is far from over. There is more work to do.
Of course, CSEA continues to maintain that if no agreement is reached, it will impose the terms of the "1 year," offer made yesterday.
A strong showing by AEU members at our Saturday meeting to discuss the bargaining process is very important. We need to continue to demonstrate mass solidarity in support of our bargaining needs.
Now is the time to restore our lost pension benefits and to equalize pension benefits for all AEU represented employees.
Now is the time for a fair market based salary increase.
Now is the time for a realistic appraisal of our future medical care benefits and costs.
Now is the time for labor stability and a multi-year contract for both AEU and CSEA members.
Please plan to attend the meeting on Saturday, September 21st at 10:30 a.m. at the San Jose Hilton, 300 Almaden Boulevard, San Jose, CA.
See you there!
In Solidarity,
Debbie Pichetto,
Valerie Hollins,
Karen Hartmann,
Scott Hendries,
Chris Platten,
Carol Koenig
CSEA SEEKS MASSIVE TAKE-AWAYS
September 18, 2013
Today, after months of fruitless bargaining, during which time AEU made significant movement on its initial demands, CSEA delivered a last, best offer, for a one year agreement loaded with unreasonable, arbitrary and unsupportable take-aways. On Saturday, Sept 21st at 10:30 a.m. at the San Jose Hilton, the AEU membership will be presented with the CSEA offer, AEU's bargaining demands, and a history of the bargaining process to date.
AEU has already filed several unfair practice charges with the NLRB arising from CSEA's bargaining tactics. After today's action, more charges may be forthcoming.
A complete discussion of the misrepresentations, bad faith tactics and vile objectives of CSEA in bargaining shall be presented on Saturday.
All AEU members are urged to attend this very important meeting.
Prior to delivery of the last, best offer, CSEA distributed the following email from DFO Keith Pace to management and AEU represented employees. Without explanation, CSEA's last, best offer eliminated what is identified as "Scenario #2" below. This suggests that CSEA's bargaining position may be constructed for the purpose of obtaining a dues increase with its membership, and not a fair and reasonable collective bargaining agreement.
AEU's corrections and comments to the Pace email below are denoted in bold italics.
From: Pace, Keith
Sent: Wednesday, September 18, 2013 10:38 AM
To: Department Heads; Field Operations Managers; Bilbrey, Michael
Subject: Bargaining Update
Over the past two days CSEA has been engaged in bargaining with AEU. CSEA is represented by Patrick Prezioso, Michael Parks, Michael Clancy, Frank Polito, Jeff Kumataka, Chris Swanson, Denise Jensen, Brian Schroeder and myself. AEU is represented by Attorneys Chris Platten and Carole Koenig and AEU members Scott Hendries, Karen Hartmann, Valerie Hollins and Debbie Pichetto.
The bargaining started off with CSEA requesting AEU's counter proposal to CSEA's last proposal made on May 29th during mediation. AEU elected to revert back to its May 21st counter proposal to CSEA which they had submitted prior to mediation. Not True. AEU prepared and delivered a modified proposal when bargaining began on September 16 at 1:40 p.m. AEU did not "revert back" to its May 21 counter proposal. The statement that AEU "elected to revert back" to a previous proposal either (a) displays a fundamental misunderstanding of the mediation process; or (b) is an intentional attempt to falsely accuse AEU of regressive bargaining. As any negotiator should know, "proposals" discussed or floated in mediation are not official and, unless the parties agree otherwise during the mediation, the starting point after mediation is at the point where the parties were before mediation. AEU's proposal was as follows:
Article 1 (Recognition and Bargaining Unit) – AEU proposed restrictions on CSEA's ability to utilize temporary workers. AEU additionally proposed that workload serve as one of the reasons for the utilization of temporary workers.

Misleading. AEU's proposal seeks to protect the integrity of the bargaining unit by capping the number of temporary workers and filling vacancies.
Article 10 (Leave of Absence) – AEU proposed changes in donated sick leave that would allow anyone who applies for donated sick leave to actually receive the leave over CSEA's objection.

Not true. AEU proposed language that would keep the donated sick leave practice as it has been for more than two decades (i.e., employees who meet the established criteria are granted donated sick leave). It is CSEA that proposes to change the policy by insisting that management has the unilateral right to deny the use of donated sick leave to anyone for any reason, and that it has no obligation to provide any explanation whatsoever for the denial

. AEU additionally proposed the use of bereavement leave for the death of any individual regardless of whether they are a part of the employees immediate family.

This is a misleading statement. AEU has proposed that employees be allowed to use only one day per year of the existing personal necessity days to attend the memorial service of a person other than those listed in the contract (such as an employee's best friend).

AEU has withdrawn its bereavement leave proposal. AEU withdrew this proposal in its package proposal of September 17 in an effort to reach an agreement. CSEA rejected this package proposal.
Article 13 (Salary Schedule and Related Matters) – AEU proposed 4.5% salary increases for each year of the contract which is a total of 18% increase.

This statement is misleading. AEU's current proposal requests salary increases of 3% in the first two years (for a total of 6%) with a reopener in 2015 for the final two years of a four year contract. This proposal was

handed to CSEA at 10:30 a.m. on September 17 (24 hours before this "update" was sent out by Keith Pace).
Article 19 (Grievance Procedure) – AEU indicated the parties are very close on this article and wanted to confirm the final edits are agreeable. CSEA has reviewed this Article and has agreed to all changes.

A more accurate statement would be that both AEU and CSEA are in agreement that the written T.A. AEU presented to CSEA on September 17 accurately reflects the parties' tentative agreement of May 21, 2013. The T.A. was signed off by the parties today, September 18.
Article 22 (Insurance Plans) – AEU proposes that CSEA pick up the increase cost of benefits over the entire duration of the contract. The cost of picking up benefits in year one is approximately $150,000.00.

AEU's position is more accurately characterized as no cuts in Employer provided health benefits. However, in order to make progress toward an agreement, AEU proposed no cuts for the first two years (of a four year contract) and a reopener for the third and fourth years.
Article 23 (Retirement Benefits) – AEU proposes CSEA restore the pension formula to 2.275 retroactively to June 1, 2011, restore the pension escalator provision from ages 60.25 to 65, lower the early retirement age to 55 and lower the normal retirement age to 60. AEU's full pensions restoration proposal for the 2013 plan year would be approximately $1.5 million to $2.0 million (equal to an 8.53% to 11.37% salary increase). Over the course of a three-year collectively bargained contract, the additional cash impact would be approximately $4.5million to $6.0 million (equal to a 25.7% to 34.2% salary increase).

This is

inaccurate. On September 17, AEU modified its proposal, withdrawing the provision on retroactive adjustments. In addition, CSEA has grossly exaggerated the fiscal impact of AEU's pension proposal.
Article 26 (Transfers, Promotions and Demotion) – AEU proposes that a mandatory meeting take place if CSEA leaves a position vacant for longer than 30 days. Again, this is misleading. AEU has proposed that CSEA agree to meet about the impacts of a vacancy of more than 30 days only if AEU requests such a meeting. AEU proposed this language to address the workload problems many AEU members have expressed.
Article 27 (Duration) – AEU has proposed a 4 year contract.

This is an accurate statement!
Article 30 (Reimbursed Expenses/Vehicle Policy, Bar Dues) – AEU has made several proposals in Article 30 dealing with increase in meal allowance, telephone allowance, meal times, and other matters currently addressed in CSEA Operating Procedure #6.

This is only partially true. What CSEA omits is that it unilaterally changed the policy during the bargaining process. AEU has filed an unfair labor practice charge with the NLRB as a result of this action and is awaiting the Board's response.
Article 33 (Member Intern Program) – AEU has agreed to all CSEA proposals on this Article with the exception of the provision that limits the mentors time to 12 weeks.

Again, this is only partially true. A dispute that remains on this article over the 12 week limit for an AEU member to serve as a mentor. What CSEA has conveniently left out is that, despite the fact that we were in the middle of bargaining on this very issue, CSEA unilaterally changed the policy, eliminating the 12 week limit and eliminating the voluntary nature of the assignment. AEU has filed an unfair practice charge with the NLRB based on this action and is awaiting the Board's response.
CSEA has rejected all AEU proposals with the exception of what's noted above. This is true. CSEA has consistently and repeatedly rejected AEU's proposals, seldom offering a reason for rejecting non-economic proposals other than "no is good enough" or "we are not interested" or "we like it the way it is." (Indeed, CSEA's bargaining style has often resembled impermissible surface bargaining.) Instead of spending time on non-economic issues CSEA has focused on the economic issues and provided AEU with a counter proposal that contained two options for their consideration. The first option was a 1 year agreement which implemented a cost sharing arrangement on pensions, placed a hard cap on medical benefits and included a small salary increase to offset the impact. Scenario two was a four year proposal that proposed CSEA pick up the cost of benefits and pensions in year one with no salary increase and then implement a cost sharing arrangement for pensions, placed a hard cap on medical benefits and included a small salary increase to offset the impact in years two through four. CSEA indicated that with the exception of Article 19 we had no additional room for movement on any outstanding non-economic issues.
Scenario 1 – one-year contract

1st year

2nd year

3rd year

4th year

Salary

1.75% on-schedule increase

H&W

The employer agrees to pay up to, but not more than, $2,017.20/month for H&W benefits (medical, dental, vision, life & dependent life, AD&D & dependent AD&D, and long-term disability); including alternate medical plan options to avoid out-of-pocket costs for employees

n/a

n/a

n/a

Pension

1.5% employee contribution
Scenario 2 - four-year contract

1st year

2nd year

3rd year

4th year

Salary

0%

2.25% on-schedule salary increase

2% on-schedule salary increase

2.25% on-schedule salary increase

H&W

No cap. CSEA pays the increase in benefits

Effective 10/1/14, the employer agrees to pay up to, but not more than, the maximum established for the total 2013/14 H&W benefit premiums (medical, dental, vision, life & dependent life, AD&D & dependent AD&D, and long-term disability); including alternate medical plan options to avoid out-of-pocket costs for employees

The employer agrees to continue to pay up to, but not more than, the maximum established for the total 2013/14 H&W benefit premiums (medical, dental, vision, life & dependent life, AD&D & dependent AD&D, and long-term disability); including alternate medical plan options to avoid out-of-pocket costs for employees

The employer agrees to continue to pay up to, but not more than, the maximum established for the total 2013/14 H&W benefit premiums (medical, dental, vision, life & dependent life, AD&D & dependent AD&D, and long-term disability); including alternate medical plan options to avoid out-of-pocket costs for employees

Pension

No employee contribution

1.5% employee contribution

1.5% employee contribution

2% employee contribution
CSEA has made clear that the proposal above represents our best efforts at reaching an agreement and that we are nearing our final proposal. This is true. The three-year proposal above is now off the table. At the close of bargaining today, CSEA presented what it described as its "last, best offer" – a one-year proposal that continues the cuts to pensions and imposes employee pension contributions as well as a cap on employer paid health premiums. See Scenario 1 above. AEU has continued to make pension restoration, salary and benefit proposals that are simply unaffordable. Not true. Regardless of current dues revenue, AEU confirmed at the table today that CSEA's 2014 fiscal year budget has more than $3.8 million in over-budgeted expenses. CSEA wants to deny AEU's bargaining unit members in order to convince CSEA members to increase dues. CSEA is now exploiting the very same supposed public sector v. private sector employee differences that it usually disparages on behalf of its members. And, it is doing so to defeat reasonable, market-based AEU objectives. It is important to remember the CSEA has no increased revenues. Membership is flat and dues are not increasing. CSEA's proposal is therefore based solely on capturing current savings and anticipating future savings. It is not based on an ongoing revenue stream. We are comfortable however, that the proposal will not create financial exposure to CSEA and is therefore a proposal we feel confident in making.
AEU will be holding a meeting today in SJHQ at noon to discuss negotiations with HQ staff. AEU indicated that it will have a counter proposal for us at 1:00 PM today. We do not anticipate however, that we will receive a proposal that moves us closer to a final agreement. It is likely that AEU will continue to propose full benefit pickup by CSEA and full restoration of the pension with no cost sharing provision. If such a proposal is received CSEA will be extremely close to submitting its last, best and final proposal which will effectively conclude negotiations.
The parties are scheduled to bargaining tomorrow and one day next week. I do not anticipate the parties will bargain for the full allotment of days currently set aside.
Please feel free to share with your staff as appropriate CSEA's position at the bargaining table. I will continue to provide updates as we move forward to a final resolution to bargaining. If you have any questions, please let me know.
Let me know if you have any questions.
Keith Pace
Director, Field Operations
2045 Lundy Avenue
San Jose CA 95131
Direct: 408-433-1261
Toll Free: 800-632-2128 x1261
Fax: 408-432-8578
CONFIDENTIALITY NOTICE: The information contained in this email is intended only for the use of the individual(s) or entity named above. It may contain confidential, privileged and/or protected .information. Any unauthorized review, use, forwarding, copying, disclosure or distribution is strictly prohibited. If you are not the intended recipient(s), please alert the sender by reply email and destroy all copies of the original message. Thank you.
YOUR ATTENDANCE AT SATURDAY'S MEETING IS VITAL.
The Bargaining Presentation will begin at 10: 30 a.m. at the San Jose Hilton Hotel, 300 Almaden Blvd., San Jose, CA. Telephone: (408) 947-4450.
Michael Bilbrey Wants to Protect Pensions
...Just Like We Want to Protect and Preserve Pensions

Pensions matter to all of us. Whether we are members of CalPERS, which many AEU members are, or whether we are solely earning a CSEA pension. Either way, it is important that we protect our retirements as a defined benefit. AEU supports CSEA President Michael Bilbrey's CalPERS campaign statement that pensions need to be protected.

"We need to protect and promote our defined benefit pensions," Bilbrey says on his campaign website.

As a CSEA leader and a current member of the CalPERS Board, Mr. Bilbrey supports the same pension values held by AEU. This is what CalPERS members deserve, and it is what AEU members deserve for their own pension. Protecting retirement security is a fundamental tenant of organized labor and collective bargaining.

"We have not done enough to provide the public with facts to help counter the lies and misconceptions that are spread by anti-worker politicians and the media," Bilbrey also says on his campaign website.

Pension costs are often distorted and exploited as a scapegoat to further other agendas. It's imperative that union leaders correct inaccurate information and defend their retirement benefits. AEU knows that Michael Bilbrey will do this for CSEA members.

AEU supports leaders who have conviction and dedication to protecting retirement benefits and defending other basic union principles such as CSEA State President Michael Bilbrey, incumbent candidate for the CalPERS Board of Administration.

AEU encourages you to participate in phone banking activities for the Bilbrey for CalPERS Board campaign. AEU is delivering "Pensions Matter to All" stickers to AEU members to wear during the work day and during "Bilbrey for CalPERS Board" phone banking.
AEU and CSEA Agree to Return to the Table
Dear AEU brothers and sisters:

AEU and CSEA have agreed to return to the table on September 16, 17, 18, 19 and 24. CSEA
produced many of the outstanding financial reports this week. On August 20, 2013, CSEA stated
that it is prepared to address all remaining economic and non-economic issues. AEU maintains
that its proposals are reasonable and responsible.
We shall continue to keep you updated.
In Solidarity,
Debbie Pichetto, Val Hollins, Karen Hartmann, Scott Hendries, Carol Koenig, Chris Platten
The Grand Rally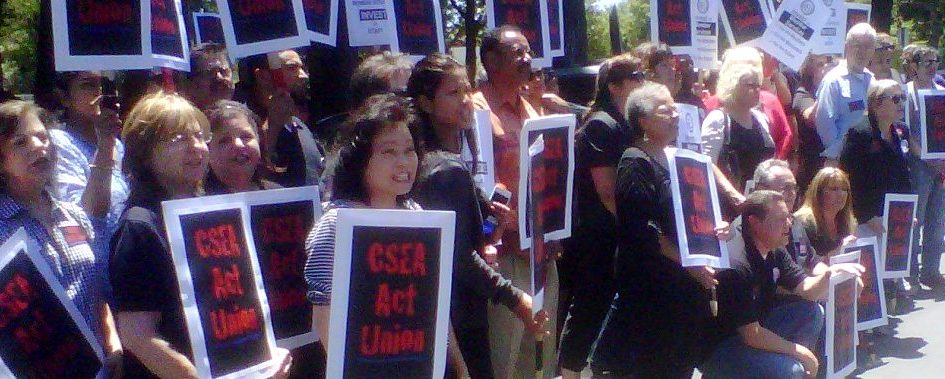 Join us at CSEA Headquarters this Saturday, July 13th at 8:00 a.m. and support AEU's intent to return to the table on Monday.

On June 15, we rallied before the CSEA State Board meeting with nearly 100 members, family and friends. We called for CSEA to Act Union and stop playing games with the numbers and our contract. Days later, the "CSEA: Act Union" video from the event went viral and continues to circulate. On June 25 and 27, the LRR's wore badges en masse stating "CSEA: Act Union" throughout the duration of one day field staff trainings held North and South. Lunch rallies were held and the videos posted on the "I Am AEU" Facebook page.

We now call on you one more time to show your support by attending the Grand Rally on Saturday, July 13th. Please plan to attend and send a loud message to CSEA: FAIR CONTRACT NOW!

Bargaining Update: AEU asks CSEA to return to the table

Yesterday, July 9, AEU asked CSEA to set a time to return to the bargaining table in good faith on Monday, July 15, 2013. We believe that reconciliation of financial issues and CSEA's representations regarding the remaining proposals on the table can potentially be accomplished. We are also seeking an agreement on the grievance and member intern articles, as well as other proposals that CSEA recently described as "imminent." CSEA's response is pending.

AEU also provided CSEA with the response of our Chief Actuary Tom Lowman of Bolton Partners, to the information request made by CSEA regarding costs related to AEU's pension restoration proposal. Because there is an evident difference in the approach to costing causing CSEA to continually claim AEU's answers are insufficient, AEU has proposed that the CSEA actuary speak directly with Mr. Lowman to resolve CSEA's further questions and concerns regarding AEU's proposals. We feel that reconciliation in this regard will eliminate further wasted time by further claims of incomplete or confusing responses by CSEA. CSEA has yet to produce the financial information it promised AEU by the end of June. We renewed our request for year-end reports on both the defined pension plan and CSEA operations including the Consolidated Financial Statements/Independent Auditors Report.

AEU has fulfilled information requests from its view and has asked CSEA to get back to the table now and continue the work of a fair contract, healthy restoration, healthy staff and healthy CSEA member services based on an accurate assessment of the financial picture by professional actuaries. AEU's proposal is reasonablewithin a healthy CSEA budget and is intended to foster improved CSEA member services through a contract that upholds the basic tenants of unionism: improved wages, hours and working conditions for workers that includes both CSEA staff and the CSEA members we faithfully serve day in and day out.
SHOW YOUR SUPPORT FOR PRODUCTIVE NEGOTIATIONS!

Please make every effort to attend the "Grand Rally"

Saturday, July 13th at 8:00 a.m.

at CSEA Headquarters.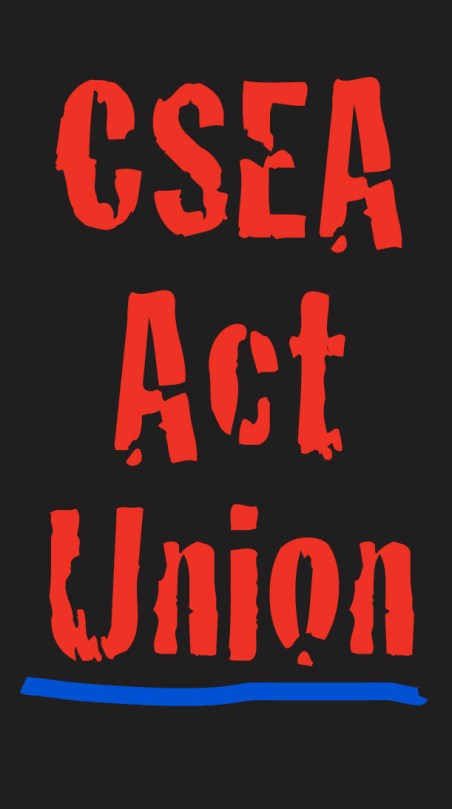 LET YOUR VOICE CARRY TO THE TABLE!
Upcoming Rally
As you are aware from the last Bargaining Update, after 10 weeks of bargaining, CSEA refuses to move off of its economic "take away" proposal. This is despite current fiscal relief from Prop 30 and 2012 congressional pension legislation vastly reducing CSEA's minimum defined pension contribution by millions.

To add insult to injury, the CSEA team has made it clear that they believe you -- the AEU membership -- do not support your AEU negotiations team or the issues that we fight hard to resolve. They believe that you won't stand up. We believe they will know soon enough our collective resolve for a fair and just contract. We go to battle on behalf of CSEA members everyday. Now we must go to battle for our coworkers, our families and ourselves.

PLEASE PLAN TO ATTEND THE CSEA BOARD MEETING IN SAN JOSE ON SATURDAY, JUNE 15TH AT 8:00 A.M. WE MUST STAND TOGETHER NOW.

Why Have We Begun This Public Campaign?
The answer is simple: CSEA has forgotten what it stands for and why it has endured. The current CSEA is not a model for worker treatment. Instead, CSEA has taken to the Corporate Playbook. Workers are expendable. Over the last year in particular, mistreatment is becoming the norm. Wages are less today than four years ago without cost of living increases. Now CSEA wants you to contribute to health care and pension "just because."

CSEA claims it has a "structural deficit"
Fact: CSEA spent $7,154,967 less than what it received in CSEA member dues for 2011-2012.

During the 2010 negotiations, CSEA projected that its minimum pension contribution would fall between $12-15 million for years 2012/13 and 2013/14.
Fact: CSEA paid under $7 million in 2012/13 year. It is projected to be even lower for 2013/14.

CSEA claims that despite the reduction/elimination of 30 bargaining unit positions over the last two years, in addition to increased duties and "goals," that work load issues don't exist.
Fact: We know the difficult struggle made worse by political campaigns – and so do they. Yet, "workload issues don't exist."

The economic and workload realities divide us at the table with our union employer. Away from the table WE MUST FIGHT FOR OURSELVES and the very integrity of CSEA itself.
CSEA Refuses To Move Off Of Its "Takeaway" Proposal
Bargaining Update: May 29, 2013
CSEA Refuses To Move Off Of Its "Takeaway" Proposal
Mediation concluded today without reaching agreement over a successor contract.
The existing contract offer from CSEA is a "takeaway" contract that will result -- for the first time ever -- in some AEU members, especially those with family coverage, paying a portion of their medical premiums. In addition, the employer is proposing a reduction in retiree medical benefits.
CSEA's proposal requires employee contributions to the pension plan of up to 5% over three years.
CSEA's offer amounts to a net reduction in employee compensation.
CSEA's offer fails to: protect the integrity of bargaining unit work; reduce employee workload; continue pre-existing practices concerning donations of sick leave hours to AEU members in need; provide adequate bereavement leave, or implement reasonable meal and vehicle allowances.
CSEA argues that despite years of no wage increases, AEU members have not sacrificed enough.
Central to its unreasonable position is CSEA's unsupported and unsupportable characterization of its fiscal condition and the funding status and costs of the pension plan. Both the organization and the pension plan enjoy sufficient assets and growth potential to comfortably meet AEU's bargaining demands for economic equity.
We appreciate your continued support and readiness to respond as needed to support AEU's struggle for your economic and working security.
Professional negotiator and AEU counsel Chris Platten will be in attendance at the General Membership meeting and will provide a report on the key facts underlying the negotiations up to this point on Saturday, June 1, 2013.
CSEA Attempts to Play "Hard Ball"
Bargaining Update: May 21, 2013
CSEA Attempts to Play "Hard Ball" – AEU Continues to Bargain
CSEA opened up negotiations on May 21, 2013 with the dramatic gesture of presenting AEU with a written 30-day notice that it will not extend contract negotiations beyond June 30th, regardless of where we are in the bargaining process. In contrast, AEU started today's negotiations on a more positive note by making yet another attempt to reasonably resolve real workload issues.
Workload Survey Results Rebuffed
AEU attempted to share the recent workload survey results – anonymously – with CSEA. However, CSEA explicitly stated that it had no interest in hearing anything in the surveys unless AEU provided names and documentation to substantiate your claims of workload issues. CSEA stated that the AEU team might as well stop sharing the survey results since CSEA did not want to hear it unless AEU gave CSEA specific activity and expense sheets. AEU Spokesperson and legal counsel Chris Platten instructed Prezioso that he could "shut his ears if he doesn't want to hear it" and asked AEU team members to continue reading the compelling information about the effects of unreasonable workload and working conditions that many of you reported. The AEU remains steadfast in seeking workload relief.
Remaining Issues
The parties are now down to a few core issues. The non-economic issues are: workload issues (e.g. the use of project organizers, temporary employees, and interns); in lieu days; use of personal necessity days, and unilateral changes in the means of filling vacancies (e.g. change of job duties, descriptions, and titles when flown outside without conferring with AEU as required under Article 1.)
AEU Calls For A Federal Mediator
The parties remain far apart on economic issues, including salaries, health and welfare, retirement, and expense reimbursement. The last few negotiations sessions have made it clear that CSEA will not move off its (concessionary) position without outside assistance. Without wasting further time, your AEU Bargaining Team is calling for the involvement of a third party federal mediator to help trigger more productive discussions and progress toward a TA when the parties meet again on May 28-29, 2013.
We stand firm and will keep you closely apprised.
In Solidarity,
Debbie,
Val,
Karen,
Scott,
Carol,
Chris
May 16th Update
Despite efforts by AEU's bargaining team to reduce the outstanding non-economic issues to only a few key articles, little was accomplished at the table on May 15, 2013 besides executing one previously agreed to tentative agreement. AEU steadfastly maintains that workload and its far reaching impacts cannot continue to go unaddressed. Management's deferral to Article 7.12 for individual LRR workload issues for example simply falls short of reality as an effective solution. Inadequate staffing levels directly impact service to CSEA members and cannot be ignored. The survey responses document excessive work levels and the negative effects including compelling impact on the ability to maintain health and engage in a personal life.
AEU submitted a revised proposal to clarify in lieu days as a more effective means for workload relief. In response, management proffered a late proposal radically altering the time in lieu provisions of Article 7.11.6. CSEA's language effectively results in an employee losing the in lieu day if the employee does not schedule its use, and notify the employer of such scheduling, within five days of earning the in lieu day. Management justified this proposal on the grounds that the practice of providing in lieu time off is a "nightmare" and that it does not want to "feed and diaper" employees to be sure they take an in lieu day.
Of course, for AEU represented employees, working Saturdays and Sundays in addition to an already demanding regular work week is a "nightmare" too . . . but evidently, the "nightmare" for AEU members doesn't count in management's view. We don't need a "bottle," CSEA – we need to be able to balance work requirements with qualify of life.
We will be responding on this matter at the next negotiations meeting set for May 21, 2013. Please continue to send in your survey responses to any team member. Your input is crucial. AEU maintains its proposals on salary, health care and pension. If necessary, bargaining sessions are also scheduled for May 28 and 29.
In Solidarity,
Debbie Pichetto
Val Hollins
Karen Hartmann
Scott Hendries
Carol Koenig
Chris Platten
Progress Continues
The parties met for three days on April 24, 25, and 26, 2013. Negotiations continued to narrow issues as the parties made more headway on important non-economic subjects prior to the pivotal economic items to come.
Progress on Several Articles
Article 8 Overtime: The parties reached agreement on a new comp time provision. CSEA agreed to provide the option of compensation time in lieu of overtime for non-exempt employees. The time must be taken in the same pay period that it is earned in order to be legal under federal law.
Article 9 Vacations: The parties agreed on status quo. CSEA also provided assurances that when it is necessary to cancel a vacation for emergency reasons it will reimburse the employee for any non-refundable vacation costs incurred by the cancellation. CSEA declined to agree to put this in the contract without specific examples when non-refundable vacation costs were not reimbursed in the past.
Article 10 Leaves of Absence: Effort has been made by both parties to clarify the rights and obligations of the parties regarding suspected sick leave abuse including when it is appropriate to issue a "warning letter" at 10.2.3, and to limit employer medical exams at 10.4.2 to comport with existing law.
Article 15 Job Reclassification: CSEA withdrew its proposals to significantly alter the reclass process and authority of the Panel. The parties agreed to status quo but for a change in the month when reclassification requests must be submitted and the month when the Panel will meet. Requests will now be accepted in January (rather than August) and the Panel will meet in February (rather than September) to better accommodate the CSEA budget cycle. CSEA also agreed to "do the right thing" and implement the 2012 Panel decision retroactive to the applicable date for the member who has been waiting for the range increase since November 1, 2012.
Article 17 Discipline: Agreement has been reached on improvements to Article 17 including the definition of discipline consistent with progressive disciplinary principles but no T.A. has yet been signed. A Side Letter of Agreement was reached that clarifies that a letter of warning is not a form of discipline and that Operating Procedure 2A will be modified to reflect that agreement. (Op 2A currently states "letter of warning/reprimand" that has created confusion whether a letter of warning has the same disciplinary force as a written reprimand.) It is hoped that the side letter can expedite resolution of pending grievances on the issue of the disciplinary meaning of a letter of warning. It is now clarified that the letter of warning serves as notice of future expectation for which non-compliance could result in discipline. It is not disciplinary itself. The letter does not go in the personnel file.
Article 19 Grievance Procedure: Agreement on significant revisions to the grievance process was reached but time constraints prohibited the actual execution of a signed T.A. which will be forthcoming. The limitations period for filing a grievance remains four (4) months and the arbitration level is completely revamped to include two arbitration panels: one for all disciplinary grievances and one for all non-disciplinary grievances. Both parties shared the desire to make the grievance process more efficient. Major effort was expended by both CSEA and AEU to succeed in this goal.
Article 29 Personnel Records and Performance Evaluation: Agreement was reached to clarify that training needs may require testing and examination which are not to be used for discipline, pay raises, or transfers and shall not be placed in the employee's personnel file. CSEA provided lengthy explanation regarding its affidavit to the NLRB that prior testing was for assessment of training needs and/or professional development of the employee and that such examinations were never intended to be used for disciplinary purposes.
Anti Workplace Bullying: A Side Letter was reached to establish a joint AEU/CSEA committee to develop and recommend a procedure to prevent workplace bullying to the Executive Director. DFO Pace underscored that ED Low does not want a culture of bullying at CSEA. AEU had previously presented survey statistics that reflected significant concern about the rising incidents of workplace bullying by management, co-workers and CSEA members. AEU is encouraged that CSEA has taken the initiative to get out front of this problem by agreeing to the joint committee. The work of the committee is scheduled to be completed by December 31, 2013.

Meal Reimbursement: CSEA further acknowledged the appropriateness of consistent meal reimbursement standards but also maintained that management has considerable discretion outside any set parameters under Operating Procedure 6.

Difficult Issues Remain
Workload: The parties engaged in extensive discussion on workload issues mostly aimed at the field. CSEA believes there are no "coverage" issues for LRR's. When on vacation, DFO Pace said that the LRR should basically shut down their service area but for emergency matters that may arise which will be addressed by the field director. CSEA asserted that the LRR can apply Article 7.12 to address service area workload issues with the field director. DFO Keith Pace stated that if and when a field director fails to work with the LRR under 7.12 "he wants to know about it." Pace believes the LRR should be more pro-active in addressing his/her legitimate workload issues. AEU continues to seek agreement on new language at Article 26 (Transfers, Promotions and Demotions) that permits the parties to timely meet and discuss workload issues caused by vacancies that are not filled within 30 days without unnecessary dispute.
In Lieu Days: CSEA maintained its position that it does not have to order an in lieu day when the employee fails to timely schedule and take the day and that the day could be lost. DFO Keith Pace believes that the onus is on the employee to take the day in a "use it or lose it" approach. CSEA asserted that 90 days, in addition to the potential extension of 30 days currently stated in the contract, is sufficient time.
Donated Sick Leave: CSEA continued to reject AEU's proposal to incorporate donated sick leave eligibility criteria in existence since 1990 into the contract. It is the position of current CSEA management that it is under no obligation to divulge the internal criteria it uses to determine who will or won't be granted donated sick leave under the "mutual agreement" requirement at Article 10.3.3. It is AEU's position that the employee who has earned the sick leave should determine who they wish to donate it to when uniform criteria is met. AEU does not believe that the job security provided by this type of leave when a person is medically disabled should be related in any way to whether the current CSEA management "likes" an employee or not, or whether in their view, an employee is "a good employee" especially when poor performance is not documented in the personnel file. AEU further does not agree that CSEA management should have unfettered discretion by refusing to agree to established eligibility criteria. Such a position appears inconsistent with most CSEA member contracts incorporating this subject.
AEU anticipates further polling of the membership on these and other issues prior to the commencement of the next bargaining session on May 15, 2013.
Economic Issues to Come
After some five weeks of negotiations, the parties will meet on the next available date of May 15th. The parties will address the remaining non-economic issues and the important and pivotal economic issues and concerns. We anticipate providing the membership with a complete update after the 15th. The parties have also scheduled additional dates for bargaining on May 28, 29th as needed.
In Solidarity,
Debbie Pichetto,
Val Hollins,
Karen Hartmann,
Scott Hendries,
Carol Koenig,
Chris Platten
Continued Progress on Contract Articles
Continued progress on contract articles
On April 17-18, negotiations on language improvements continued at the table. Major effort was spent on improving the efficiency of Article 19 (Grievance Procedure), but no T.A. has yet been reached. Three tentative agreements to sustain the status quo were reached on Article 5 (New Employees), Article 6 (Probationary Period) and Article 28 (Rights of the Union). The parties reached agreement on Article 16 (Lay-off) regarding bumping rights including improved notice and clarity of the bumping procedure. AEU also presented a new proposal to provide the option of compensatory time in lieu of paid overtime for non-exempt staff which is currently under consideration by CSEA.
AEU seeks solutions to workplace issues
As reflected by AEU's April 18, 2013, comprehensive proposal, AEU continues to make every effort to engage CSEA in substantive problem solving before moving to the economic proposals. Significant issues that warrant appropriate dialog include: unreasonable workload levels; non-discriminatory application of donated sick leave; progressive disciplinary procedures; uniform criteria for meal reimbursement and activity/expense reporting, and last but not least -- the need to establish a workplace anti-bulling policy against the alarming rise in incidents during the last year. The global concern is that CSEA appears to be moving away from an exemplary model of how workers should be treated. This is deeply troubling to staff because of the work we do to maintain the highest worker standards for CSEA members every day.
Improved Dialog
Better dialog did occur this week including Article 15 (Reclassifications). CSEA proposed substantive changes to the reclass process that would allow it to bargain the Panel's decision and effects if it did not like it. This includes the right to take the dispute to arbitration if the parties could not reach agreement. To their credit, the CSEA withdrew that proposal and agreed in good faith to take a more substantive look at the article as well as resolve an outstanding issue lingering from the 2012 Panel decision. The Panel determined to increase the salary range for one member to fairly compensate him for new work outside the job description, but CSEA has not agreed to implement the Panel's determination since November 1, 2012.
Issues like this as well as the serious problems of unfilled vacancies and an increase in discipline outside of just cause and progressive disciplinary principles cannot go unresolved. The health of CSEA as a union as well as the health of its staff hangs in the balance.
In Solidarity,
Debbie Pichetto
Val Hollins
Karen Hartmann
Scott Hendries
Carol Koenig
Chris Platten
Progress on Non-Economic Issues
AEU and CSEA continued negotiations on April 10-11, narrowing the non-economic issues on the table. The parties made progress toward tentative agreements on several articles. Significant work was accomplished this week on the following issues:
Sick leave rights
10.2.3 -- Premature discipline for suspected sick leave abuse: Proposals were exchanged regarding improved parameters that allow the worker to demonstrate the leave was used for the appropriate purpose before a disciplinary letter of warning may issue. AEU takes the position that an employee should not receive a letter of warning for excessive use of sick leave when they need to use their earned sick leave for bona fide illness, injury or other medical need.
Elimination of medical exams
10.4.2 -- Elimination of employer medical exams for workers returning from the 39 month list: Proposals were exchanged to better reflect current law that protects employees from intrusive inquiries about their medical details.
Disciplinary action limits
17.3 -- Two year limitations period for bringing disciplinary action: Proposals were exchanged to clarify the meaning of the two year rule.
Due process for member complaints
17.7.1-- Improved CSEA member complaint procedure: AEU believes the contract should provide sufficient due process that allows the target of the complaint to know both its existence and substance.

Improved grievance procedure
19. 3.1, 19.4.1, 19.4.2, 19.6.1 - 19.6.6 - Improved grievance machinery: Comprehensive proposals were exchanged to improve the efficiency of the grievance process including the potential creation of a contractual panel of arbitrators in order to significantly reduce the time it takes to secure an arbitration decision when one is necessary.
Tentative agreements on two articles
AEU and CSEA also had a substantive dialog regarding uniform standards for expense/activity reporting (Concur) and meal reimbursement criteria, and notice and bumping related to layoff. Two minor tentative agreements were signed off on Articles 8 and 12. To view a list of tentative agreements go here.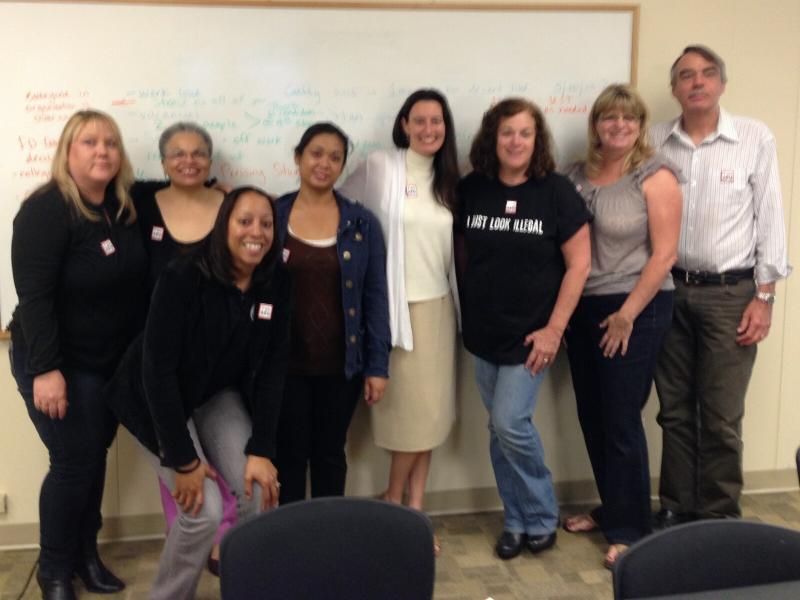 AEU members in the North Bay Field Office show off their "I am AEU" buttons.
I am AEU
The Bargaining Committee would like to thank the Bargaining Council comprised of the statewide stewards for their effort to get us facts that directly assisted in improved dialog at the table. The Committee would also like to thank the membership for the statewide show of support this week through the successful launch of the I am AEU campaign. Some 70 Headquarters Brothers and Sisters surrounded us wearing the I am AEU button during both days of negotiations. The North Bay staff encouraged us even more when they texted in the "We are AEU" picture above!

AEU remains cautiously optimistic that labor and management will reach good faith internal compromise in the current climate that will allow both parties to emerge united in the greater fight for improving worker rights and benefits. Fair and equitable improvements for both CSEA and AEU members are available since the victory of Proposition 30. The AEU staff is working hard to restore prior concessions suffered by CSEA members prior to Prop. 30. We think this same goal should extend within CSEA's own house -- without a bloody fight, without hypocrisy and consistent with the core values of unionism reflected by the true CSEA.

Support AEU, the internal staff union of the CSEA serving CSEA members throughout the State of California for over 45 years.

In Solidarity,

Debbie Pichetto
Val Hollins
Karen Hartmann
Scott Hendries
Carol Koenig
Chris Platten
Show Your Solidarity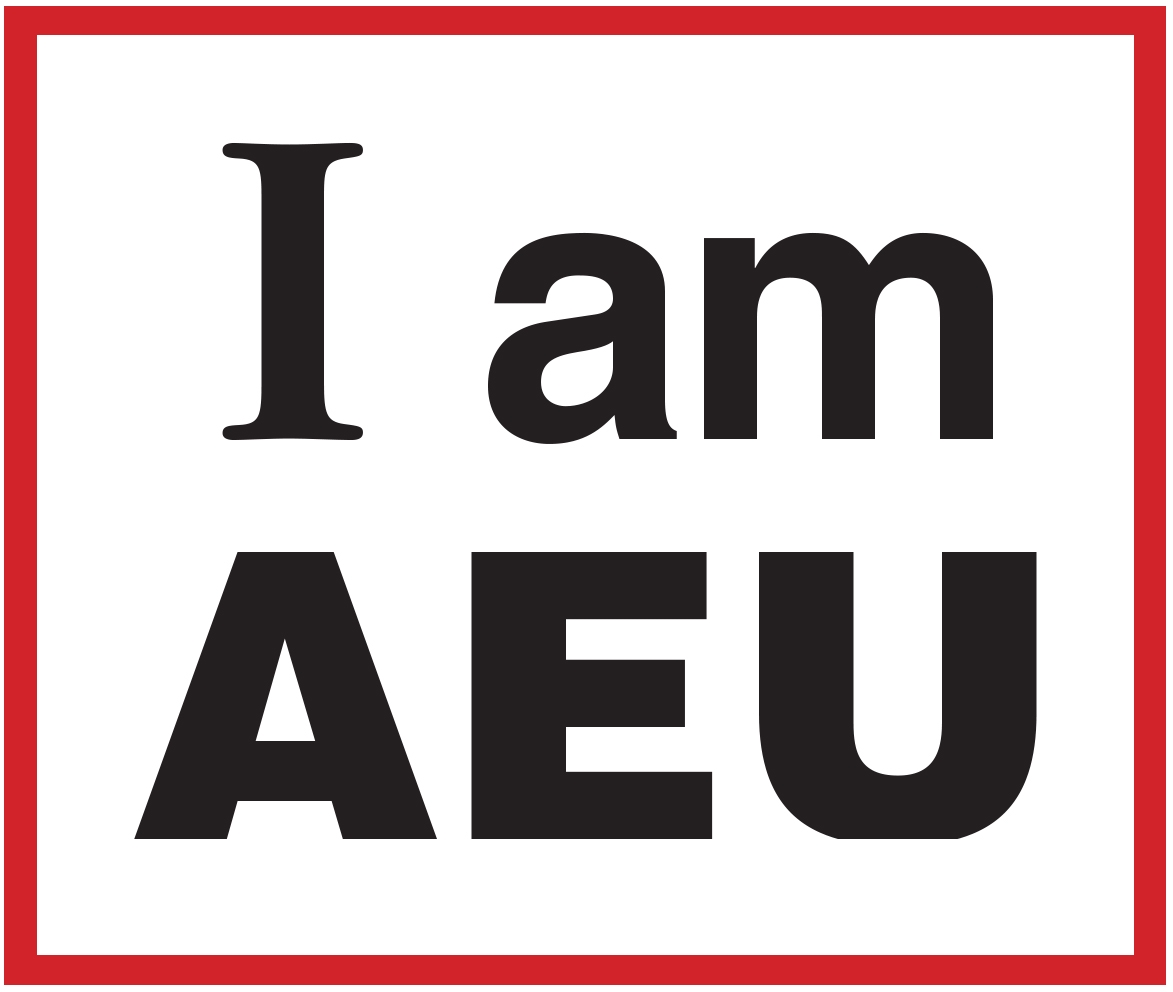 Show Your Solidarity
As you know, AEU has begun negotiations for a new collective bargaining agreement with CSEA. This contract has important implications for every AEU member. It's now time to show our unity and collective support for AEU's proposals by EVERYONE wearing the I AM AEU button.
The I Am AEU campaign is about putting a face to the work each of us does every day to make a difference in the lives of the CSEA members we serve. We are not a line on a financial report or a 1% salary factor in a pension actuarial projection. We are not an expendable commodity that can be adjusted at will to meet management's priorities. We are dedicated professionals. We are union people who believe in union principles. We are families who feel the impact of unfilled positions when work load causes us to miss a birthday; the pinch of not keeping up with the cost of living on our wages, and the loss of retirement security by unnecessary pension cuts.
Please wear your I AM AEU button starting on Wednesday, April 10th in support for AEU's proposals to stop further concessions, restore unnecessary losses and attain fair and equitable gains now possible since the school fiscal drought has ended.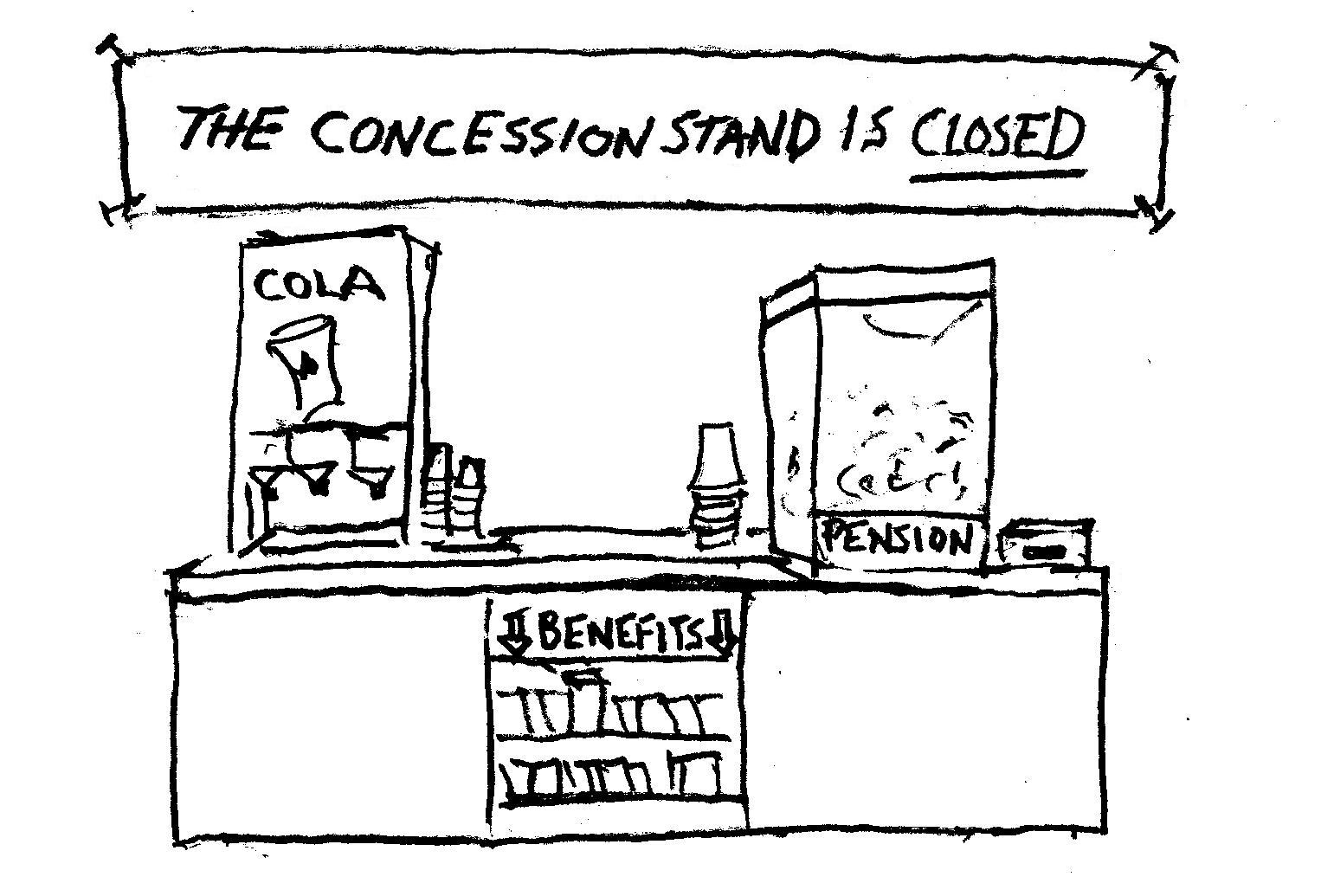 You can download and print this information in flyer format here.
April 3-4 Bargaining Update

The parties met twice this week on April 3 - 4 to continue negotiations primarily over outstanding non-economic issues. Full and frank exchanges occurred between the bargaining teams and gradual, but substantive progress was made on several articles, however, much remains to be done involving key non-economic issues including the impact of unfilled vacancies and use of temporary workers; adherence to progressive discipline and due process principles; meaningful grievance resolution; uniform criteria for donated sick leave; uniform activity/expense reporting (Concur) and meal reimbursement criteria; lawful employer mandated medical examinations and the growing concern regarding appropriate worker treatment/anti-bullying.

In addition, the AEU team proffered several more information requests to CSEA regarding economic matters to be resolved. Chief among these include information requests verifying existing bargaining unit costs and investment performance and asset allocation policies of the pension plan. Wages, health care and pension benefits and other compensation issues are critical areas for bargaining once the non-economic issues are resolved or greatly narrowed.

Your AEU bargaining team will continue the negotiating process next week on April 10-11, and we are hopeful that significant progress can be made on the non-economic issues on the table. The team also looks forward to receiving the information requested from CSEA as soon as practicable.

The team is requesting a statewide show of support. Please wear your I AM AEU button that will be delivered to you by your steward on Monday or Tuesday, April 8-9. Finally, the AEU team anticipates additional short survey questions directly linked to the progress at the table. Please be on the look-out for AEU communication requesting your responses through email and your steward.

We will keep you informed.

In Solidarity,

Debbie Pichetto
Val Hollins
Karen Hartmann
Scott Hendries
Carol Koenig
Chris Platten
AEU Outlines Its Proposals
The AEU and CSEA negotiating teams met March 27-28, and continued to discuss proposals for a successor agreement to our contract. The AEU team fulfilled its due diligence in the bargaining process by securing detailed information from CSEA regarding its economic proposals. AEU also presented its full set of proposals -- both economic and language proposals. The entire set can be viewed here.

AEU has proposed a four-year contract with meaningful wage increases each year, a full restoration of retirement benefits, security for health and welfare benefits, increased meal and car allowance, and better contract language – including strong protections against workplace bullying. All of the AEU proposals stemmed from feedback provided by AEU members in the bargaining survey.

Highlights of AEU's initial proposal:

Salary: AEU has proposed a 5.0% wage increase each year for the duration of the contract.

Retirement: AEU has proposed restoring retirement benefits to the level that they were two years ago. That is full restoration of the 2.275% benefit calculation and elimination of the current two tier system including retiree health and welfare.

Health and Welfare: AEU has proposed keeping health and welfare benefits at their current level, fully paid by the employer with no cap.

Reimbursements: AEU has proposed increasing the meal allowance to $40 (same as CSEA members daily per-diem ). AEU also proposed increasing the car allowance by $50 per month starting June 1, 2015.

Worker Protections: AEU proposed implementing new contract language to stop intimidation in the workplace. In the AEU Bargaining Survey, 46% of AEU members said they were bullied on the job or witnessed bullying on the job. As many as 37% of AEU members said they experienced threats on the job.

Other Non-Economic Issues: Various non-economic issues were proposed that address working conditions and also clarify procedures and process in Articles 1, 5, 6, 7, 8, 9, 10, 12, 15, 16, 17, 19, 26, 27, 28, 29 and 33. In addition, AEU and CSEA reached tentative agreement on 9 other Articles where there is no change to current contract language. The parties further reached agreement on 4 Articles that have no economic impact including elimination of the Emeritus Program at Article 34. More information on those tentative agreements is available here.

The negotiating team is optimistic in the progress we are making at the bargaining table. We are also very pleased with the support we are receiving from the AEU membership and beyond. Please continue to demonstrate AEU strength and unity. Wear the new "I am AEU" button, which will be distributed in the near future. Join more than 50 other AEU members who have joined our Facebook group. Ask questions. Stay involved. And remember, solidarity makes us stronger.

In Solidarity,

Debbie Pichetto
Val Hollins
Karen Hartmann
Scott Hendries
Carol Koenig
Chris Platten
Let Them Eat Cake
Just hours after CSEA management handed out cake and praised the hard work of AEU members at Wednesday's Employee of the Year event; they entered negotiations and demanded takeaways from all AEU members.

Last year, AEU members worked harder than ever to represent CSEA members in chapters throughout the state and to lead the successful campaign to pass Proposition 30. CSEA President Allan Clark declared that the days of concessions were over for CSEA members. "We need to restore programs, put an end to furloughs, restore pay cuts, bring classified employees back to work," he said.

Which CSEA are we dealing with?
As AEU labor reps bargain to secure better pay and benefits for CSEA members, they are being asked to accept reductions and takeaways from their own employer. It is an ironic hypocrisy for a labor union that prides itself on championing the rights of workers.

CSEA is asking all AEU members to pay up to 5% out-of-pocket for their retirement benefits. CSEA is also asking for punitive cap on health benefits for active AEU members and retirees. And that's just the beginning.

So, which CSEA is representing these anti-worker values? It's not the CSEA rank and file members. It's not the local member leaders. It's not even the members on the state board of directors. It is CSEA's upper-level management. They are lead by Director of Field Operations Keith Pace. Their chief spokesperson is former Field Director Patrick Prezioso, who came out of retirement for negotiations. Also at the table is Chief Financial Officer Jeff Kumataka, Chief Counsel Michael Clancy, Human Resources Director Brian Schroeder, Communications Director Frank Polito, Rancho Cucamonga Field Office Director Denise Jensen, Fresno Field Office Director Michael Parks and Executive Manager Chris Swanson.

For the past seven years, AEU has shared the pain of budget cuts for CSEA members. Now, as the funding for schools has finally begun to stabilize, the message from CSEA management is still based on concessions. Yet, they seem puzzled that AEU members want more for themselves and their families than cuts.

After all, they did hand out cake.
AEU Goes Mobile / Social
Rejoice smart phone users—your days of pinching and dragging are over! You can now access a mobile version of the AEU website that puts our most commonly used features in an easy to use mobile-friendly format. You can also keep up to date with the latest by checking our facebook and twitter accounts.
Read More...
Website Updates
The website is currently going through a lot of updates and revisions. If response time is slow on the website this is likely why. We have started updating numerous sections of the website making the site more user friendly and current.
Read More...