End of Day 3 Negotiations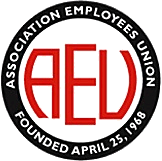 Good afternoon AEU Brothers and Sisters,
Today we were scheduled for day 3 of our 2020 Successor Negotiations. Unfortunately, one of our team members was ill and CSEA elected to cancel negotiations until the entire team could be present.
We look forward to resuming our negotiations tomorrow.
If you have any questions, please do not hesitate to reach out to any member of the Bargaining Committee. Thank you for your continued support.
In solidarity,

AEU Bargaining Committee
#AEUStrong